As the uncertainty regarding Andy Carroll's future rages, it has emerged that the loan deal that brought him to Upton Park may be even MORE complicated than was first thought! Even as he helped the swashbuckling Hammers to a breathtaking demolition of lowly Fulham at the weekend, reports from Anfield suggested that Liverpool may invoke a clause in his contract that allows them to recall Carroll at Christmas. Hammers fans have hit out at Pool's Killjoy threats and vowed to resist the curmudgeonly Scousers Yule tidings.
Scouse Claws
However, top wig- Max Fotherington-Ponsonbury - has opinioned that the arrangements for Andy's ongoing footie foster care could be resolved in any of a number of ways. One obvious fix would be for Andy to be divided in half

-

a solution that West Ham sources were quick to brand as 'ridiculous', outrightly rejecting the possibility, while emphasising that in any such case the Hammers would be taking the free-scoring head rather than his goal-shy lower limbs.
A full Andy at training last week
It is believed that a similar half-torso arrangement has worked well for the Pool in the past, with Red's legend Sammy Lee rumoured to have been the bottom half of a pantomime horse discarded from Southport theatre after the Christmas celebrations

of 1978.
Another possible solution would be for the clubs to avail of his services on alternate weeks – like a timeshare arrangement. A further delicious possibility would be for Andy to play alternate halfs for each side in the likely top of the table clash scheduled for Anfield in April. This could provide the eco-aware Andy an ideal opportunity to set an example by wearing a hybrid Liver-Ham kit thus reducing the workload for busy Anfield laundering staff.
A disgusting mess that mixing Hammers and Pool kits could produce
Hammers management have expressed a willingness to be flexible in reaching an agreement with the pugnacious Liverpudlians. One of the Davids is said to have calculated that even if Andy is only available for 50%

of the time, he will still exceed the combined contribution of Kieran Dyer and Freddie Lundberg, both of whom had full time contracts with West Ham. Meanwhile, in recent times the cash-savvy Scousers have inceasingly opted for 50%-effort contracts that explain the half-hearted performance of their transfer signings of recent years.
Either way, it looks like the clubs are going to have to get down together and thrash out a deal over how best to share out the considerable spoils of Andy's endeavours over the season. Liverpool will certainly be hoping to get a better deal than they did the last time they negotiated a deal with West Ham – the famous Dicks-Marsh-Burrows accord that saw the Hammers achieve Premiership survival. Conspiracy theorists continue to insist that the follicly challenged psycho who turned out for the Pool was in fact Bill Carter – the 1980s troubadour with punk legends the Screaming Blue Messiahs - who posed as the silky-skilled defender while the real Dicks took a year out to compete on the professional Golf circuit.
Yet another Dicks impersonator
In a further twist, it is rumoured that Liverpool have reserved the right to assume control of Andy's left foot from January onwards. It is thought that a similar agreement was the basis for Everton's remarkable Premiership survival in 1994 when the usually reliable Wimbledon stopper, Hans Segers, found himself unable to reach down for a gentle possession-returning pass from Everton's Graeme Stuart. It is believed that Everton had in some way assumed financial control of his lower limb thus preventing him from making the routine save that would have condemned the Toffees to the lower division in a season that, after all the final day musical chairs, predictably resulted in Sheffield United being once again relegated in 'suspicious' circumstances. THE END.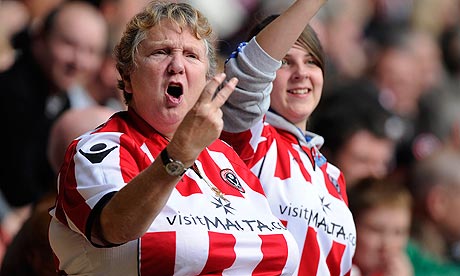 Some Dogged Blades Fans